Stacy Nycole

's Fan Club site!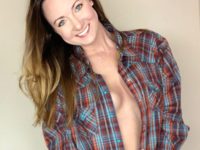 Welcome to my Fan Club!

I want to get to know you, and what you like. How you like it. So I can make sure you get what you want each and every time. Their is no shame in anything we discuss and/or role-play together. I want to know what movie plays in your mind when you think of a fantasy. I want our time together to be a representation of those cinematic dreams/fantasies.


Wahoo! Add me on SnapChat- Stacy_Nycole

What special ideas do you have for our shows together??? Let me know and we can make it happen ;)

** This is my place to connect and share with all my favorite fans. Members get a 5% discount on my shows and VODs, plus I can give you free Members Only shows and you'll show up in my room in my special fan font color. **
Dec. 9 2019 Date: 12/09/19
Hello :) Hope you all had a great Monday! I just wanted to reach out and let ya'll know I won't be logging in tonight, but tomorrow I'm free afternoon and evening - Let's spend some time together... ...
Read More
Flirt Phone Information Date: 12/16/19
Call me! I love Flirt Phone ;) Anytime you would like to talk... Best time is 10pm-2am or 5am-6am, weekdays - Extended on weekends ...
Read More